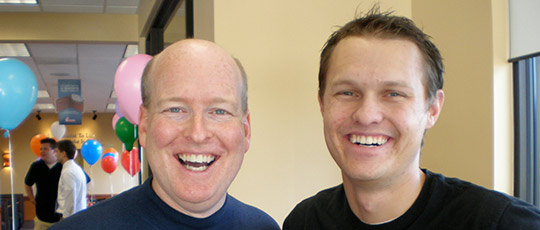 In 2005, my first job out of college was being a Videographer for a church in Alpharetta, Georgia. That is where I met
Allen Hunt
. He was the Senior Pastor of that church.
Unbeknownst to me when I graduated on a Saturday and packed up and moved from Los Angeles to Atlanta by Tuesday, was that Allen Hunt would become (and continues to be) a huge influence in my life.
I also didn't know at the time that he was starting a talk radio show aimed at talking about faith in the mainstream (not on Christian radio).
I spent the next six years working side by side with Allen. The show started as a side project of our church and eventually we struck out on our own: just the two of us.
It is where I learned a lot about running technology for an operation because we had
no
budget and
a lot
of needs. I was responsible for everything - from the networking to the website design, database management, CRM, graphic design, satellite uplinks, audio editing. You name it, everything.
But while I self-taught myself a lot about tech during my time with Allen, I also learned a lot about life from him. Looking back, it would be amazing if everyone spent the first six years of their professional journey with someone like Allen.
Allen would have this saying that there is a
"difference in being right and doing right."
I always loved that. Not because I was particularly good at it. I like being right. If you know me for more than five minutes you know I like being right. I grew up in what I would call a multi-generational, extended-legal family. In three generations I can count seven lawyers and one politician. And that doesn't even count the two intense businessmen. It breeds into you the ability to think creatively and stand your ground. Which has its benefits some times.
But this was added as one of our core values partially because I am not good at it and I need the reminder, but also because - no pun intended - he's right. It is better to do right than be right.
Sometimes that means swallowing your tongue. Sometimes that means doing the right thing regardless of whether or not someone is right to have asked of it. Sometimes it means just having empathy.
It also makes a lot of sense given our industry. There is something about being in
Technology
and being in
Healthcare
that makes this all the more important. There are a lot of egos. There is a lot of dysfunction. A lot of times it just takes someone stopping and asking the question, what is the right thing to do, and then doing it.
We probably will not be successful at this at all times. But we strive to be.
Thank you,
Allen Hunt
. We will do our best to be like you.