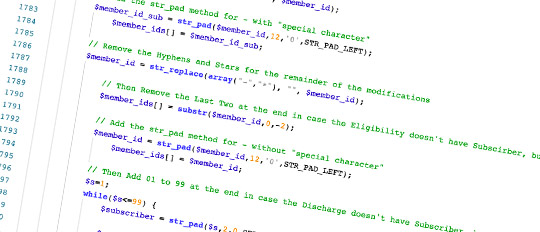 One of our
core values
at Vy Technology is that
We Know the Difference in Being Right and Doing Right.
What we mean by that is, being right is important, but doing right is far more important. When those conflict, choose doing right.
Even though most of our core values reflect what I naturally gravitate to in business, this, in full disclosure, is not one I naturally gravitate to. Out of all our values, this is one that I personally struggle with the most. I think a lot of technology personalities struggle with this. It's why it's important it's there.
Living out this value of course can manifest itself in many ways. One recent way was looking at helping a customer of ours come up with a solution because their customer didn't have the ability to provide consistently formatted data.
This story may get a little complicated so I will go ahead and call our customer Good Food Company and I will name their customer Homestead Insurance Company (neither are their real names).
A standard need for Good Food is being able to process hospital discharge files. This usually entails processing through the discharge file, comparing MemberIDs to a previously loaded eligibility file, and then proceeding on if a match is found.
This match is important because after the member has been served, the reporting needs kick in and there is a lot of metadata associated to that member from the eligibility file that needs to be reported back to Homestead.
The problem lies however in the fact that you would think the MemberIDs in the discharge file would be in the same format as the MemberIDs in the eligibility file. For most MCOs, that is the case. But for Homestead, that wasn't the case.
Now we could have rightly held firm and said, you need to get your two files to match.
We would be right saying that. But that isn't necessarily doing right given the situation.
Why? Because we know that Homestead will take months to get this resolved. We know that Good Food will be missing out on revenue while Homestead sorts through that. And most importantly, we know that Homestead's members will be missing out on a benefit they very desperately need when they are at their most vulnerable.
So how does a "doing right" versus "being right" mindset solve this issue? Simple. Vy Technology proposed and then wrote an algorithm that tries 896 different combinations of MemberIDs to find a match.
So if a MemberID is 123456789-01 in a discharge file, then we try 12345678901, and 123456789*01, and 00012345678901, and 123456789, and 892 more variations. The computational impact on the server is measured in milliseconds. The coding effort was measured in 2 to 3 hours.
Good Food is happy, Homestead is happy, and Homestead's members are happy.
These are the types of issues you find when doing business in healthcare. And this is the type of creative problem solving you get with Vy Technology.
Need help with
creative solutions to complex problems?
We'd love to hear from you.
Reach Out.