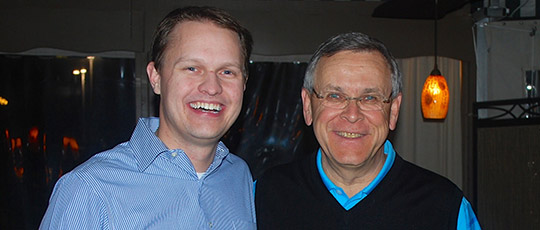 If there is one thing I am most grateful in this life is that I have had amazing mentors at all stages. There were three in high school. Two in college. Four after college. But there is one mentor that I have had throughout all the stages.
Charlie Paparelli.
It is not an understatement to say I would not be the person I am today without Charlie. He is my Uncle. He is a very successful businessman. But when he realized that the life of success he was pursuing was pulling him away from family and instilling some bad habits, he had the strength to become someone completely different. A better person.
When everyone else in my life was just impressed I was a 4th grader with a job, he wasn't. That wasn't good enough. I still remember sitting in my dad's office and him teaching me (at 4th grade mind you) how to sell more newspaper subscriptions and the value of recurring revenue. I mean, who does that?
If you are going to be around Charlie you got to be ready to improve.
As a kid I don't remember him being an alcoholic. I just remember him being my Uncle Charlie. Right as I became of age and started knowing things is when he turned his life around. He's now as passionate about reaching this world for Jesus as he is a savvy businessman.
I remember a lot of his sayings throughout the years. One of which was when I was 13 or 14, I was up in my cousin's David bedroom, and he gave me this classic Charlie look. If you know Charlie you know that look. It's a look that means something - whether asked for or not - is coming. I love that look. He said,
"Andy, if you are not learning you're dying."
I am sure there were many supporting points to this statement that followed. I don't remember those. But I always remember that saying.
Unlike Allen Hunt's value, Charlie's value is one I naturally gravitate to. I like learning new things. I like experiencing new things. I get a little bored once I have become "good enough" at something. I think a lot of time when we get in trouble in life is when we basically come to the point where we say "yep I have learned that" and then try to coast it on in.
Charlie gets overcoming this temptation better than anyone I have ever known. It is rooted in the saying, "if we are not learning we are dying."
Be someone who is constantly trying to learn new things. Be someone who is trying to be better today than you were yesterday. Be someone who does not feel that it is up to anyone else to train, equip and develop you. Go out and find the answer and then do something with those answers.
We are dying if we are not learning.
Thank you,
Charlie Paparelli
. We will strive to be like you.